Home
Jonathan Marshall has been a professional falconer and horse trainer since 1985. He has performed at some of the largest outdoor events in the world and has entertained audiences of up to tens of thousands at a time.
His Free Spirits live experience is totally unique and includes stunning horses and falcons which work together in a carefully choreographed performance. It includes dramatic music which climaxes with the falcon flying right through the horses legs at over 100 mph.
His powerful message is both inspirational and moving. The combination of seeing horses running at liberty and falcons flying freely combined with Jonathans ability as a motivational speaker is extremely powerful. Audiences are left feeling thrilled, excited and emotional. Jonathan makes no apology for allowing his own emotions to spill into his performances and truly lives by his ethos of "Standing in the light of ones own truth and expressing your own consciousness". He encourages everyone to embrace the Free Spirit within themselves.
Jonathan is also an author, film maker, artist and musician who is constantly creating new content. Much of this can be accessed by becoming a member of jonathanmarshallshows.com.
As a motivational speaker and story teller Jonathan is considered a master. He can hold the attention of any crowd and have them rolling with laughter one minute and crying with emotion in the next.
In recent years it became increasingly obvious that it was Jonathan's ability as a communicator that was his gift and by using his horses and falcons he continues to spread his powerful message at his live performances and personal appearances.
Visiting schools, retirement homes, hospices and even private events with his famous black horse 'Amadeus' has become one of the most gratifying and personally rewarding aspects of his work.
"I want to share my gifts with as many people as possible"
Jonathan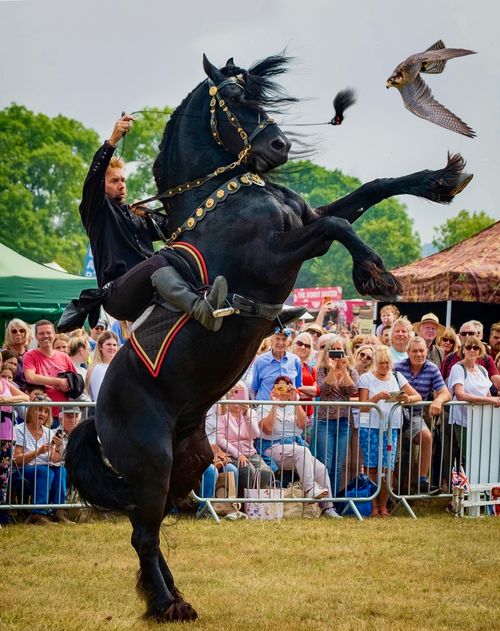 Animal activities License Number: LI21_002911
The animal welfare (licensing of activities involving animals)(England) regulations 2018-keeping or training animals for exhibition
email: jonathanmarshallshows@hotmail.com
UK phone: +447863518812
Spanish phone: +34615530300
If you have received goods at a show and want to pay for them by using a card you can click  on the "donate" button below. This will avoid having to pay for the automatic shipping costs.